As summer turns into fall, the state of Mississippi and the Southeast US transitions into its secondary severe weather season. While the heaviest threat of severe weather is in March through May, late October into November also brings severe weather threats and is the second highest period where severe weather occurs across the southeast. The summer months give us a break so it's always a good idea to refresh oneself on severe weather safety and information. Luckily, I'm here to do all the work for you so all you have to do is sit down or stand, I can't tell you how to live your life, and read this blog. First let's go over the different kinds of severe weather and their warnings and watches. First we have a severe thunderstorm. A severe thunderstorm is a storm that is producing damaging winds in excess of 58 mph and/or hail that is at least an inch in diameter (Quarter size) or larger.
Source: (WHOtv user submitted picture, NBC affiliate in Des Moines, IA)
Severe Weather 
Associated with severe thunderstorms are Severe Thunderstorm Watches and Severe Thunderstorm Warnings. A Severe Thunderstorm Watch means that conditions are favorable for the development of severe thunderstorms and are represented by large yellow polygons. A Severe Thunderstorm Warning means a storm is currently happening that meets the criteria of a severe thunderstorm and is represented by a much smaller yellow polygon that just covers the area near the storm.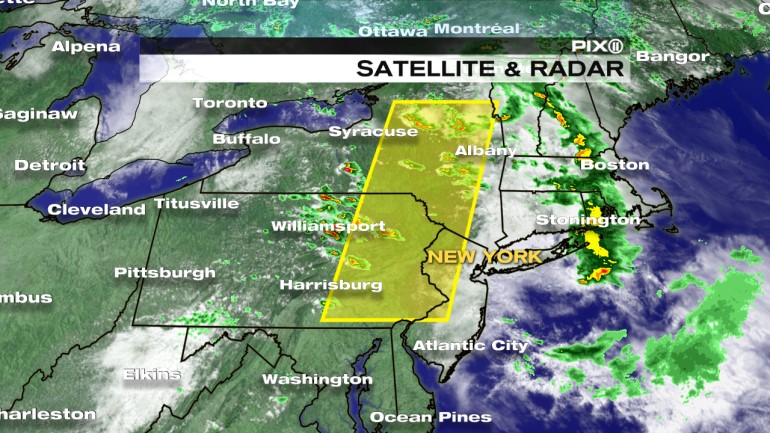 Severe Thunderstorm Watch (Source: PIX 11 New York)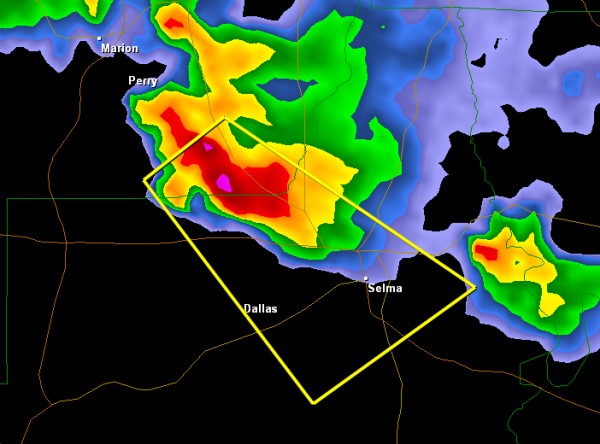 Severe Thunderstorm Warning (Source: Alabamawx.com)
Tornado 
Tornado Watches and Warnings follow the same look as Severe Thunderstorm Watches and Warnings except they're red instead of yellow. A Tornado Watch means conditions are favorable for a forming storm or an existing storm to produce a tornado. Watches do not mean a tornado is currently happening, just that it's possible, and to stay alert to the changing conditions and monitor local weather broadcasts or weather radios. A Tornado Watch usually covers a larger area than a Tornado Warning. A PDS (Particularly Dangerous Situation) Tornado Watch is a Tornado Watch that is issued when forecasters have a high confidence that multiple strong to violent tornados will happen. All the right ingredients for a large tornado outbreak have to be in place before a PDS Tornado Watch is issued. A Tornado Warning means that either a tornado has been detected using radar or by a confirmed storm spotter report. According to the National Weather Service, the average warn time for a tornado is around 13 minutes so it's very important to take every warning seriously.
Tornado Safety 101:
Get to the lowest level of your home
Get to the inner most room: closet, bathroom, hallway
Put as much space between you and the outside walls as possible
Abandon cars & mobile homes: seek a sturdy shelter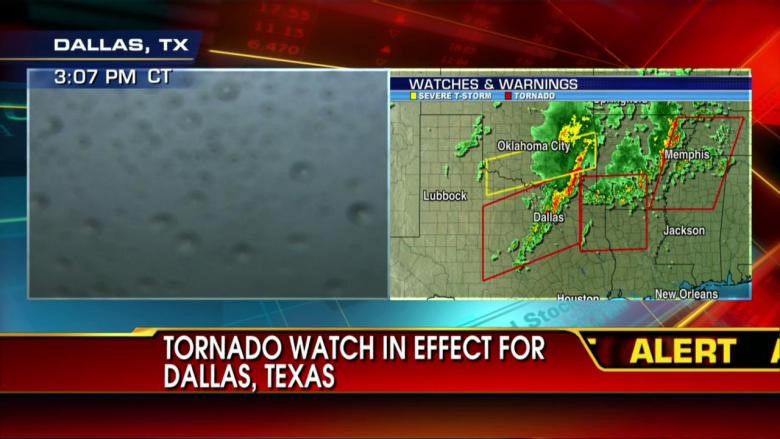 Tornado Watch (Source: Fox News Insider)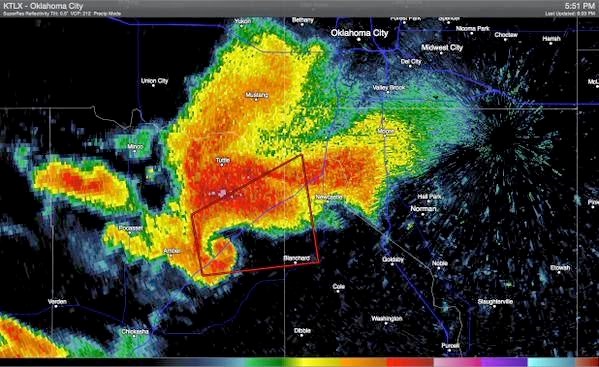 Tornado Warning (Source: charliesweatherforecasts.blogspot.com)
Flash Flooding
The last type of severe weather event is one of the most deadly phenomenons in weather. Flash flooding. It only takes half a foot of water to sweep a car off the road if the current is strong enough. That's why it is always important to turn around if there's water covering a road. Flash Flood Watches mean that conditions are favorable for flooding to happen. Warnings mean flash flooding is already occurring and to move to higher ground or avoid flooded roads. Flash flood watches and warnings are composed of green polygons.
As the southeast gets further into fall, we'll have to be ready for the occasional rounds of severe weather. It's important to know the basics of severe weather safety and recognize the watches and warnings to keep you and your family safe. Always be ready to take action to get in a safe spot to avoid the damage that weather can do. Here are some tips on what to do in the instance of a tornado but these tips can also be applied to very strong straight line winds or large hail. ~Zach Holder
Citations: