2016-2017 Graduate Students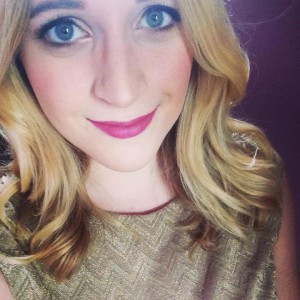 Amy Lovely (@AmyLovelyWX): Amy is from Concord, New Hampshire and received her Bachelor's degree in Earth Science Education in 2014 from the University of New Hampshire. Amy is currently in her second year of Graduate School pursuing her MS in Broadcast Meteorology from Mississippi State University. Amy recently interned at WCBI in Columbus, Mississippi. She also worked for the Office of the Mississippi State Climatologist her first year at MSU, and is now a TA for Practicum in Broadcast Meteorology. Amy enjoys severe weather, specifically tornadoes, but is also a fan of quiet, calm beach days! When she isn't forecasting the weather, Amy enjoys cooking/baking, yoga, watching any and all New England sports and reading Stephen King. You can contact Amy at amy.lovely12@gmail.com .
2016-2017 Undergraduate Students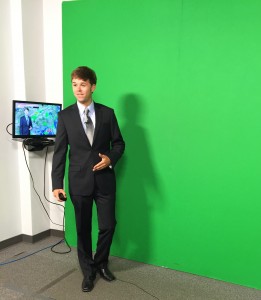 James Bryant (@nlrweatherman) : James grew up in Little Rock, Arkansas developing a love for the crazy Arkansas weather at a young age. The largest tornado outbreak in Arkansas history in January of 1999 really sparked his interest in weather. He has interned at the CBS affiliate KTHV in Little Rock the past two summers and storm chases whenever the opportunity presents itself. Extreme weather is what he loves the most about meteorology. He has witnessed extreme events all over the southern United States such as the April 14th, 2012 tornado outbreak, the April 27th-28th, 2014 tornado outbreak, and the 2012 Arkansas Christmas blizzard. With such a passion for weather, meteorology at Mississippi state was the perfect fit. Aside from weather, James loves college football, playing sports, and spending time with his family. You can contact James at jkb387@msstate.edu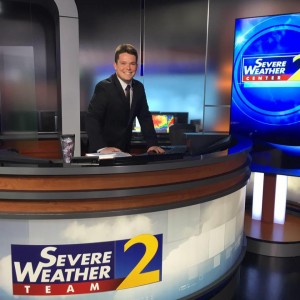 Griffin Hardy: (@griffinhardywx) Campus Connect forecaster Griffin Hardy hails from just North of Atlanta, Georgia and has had a passion for weather ever since the 1998 tornado outbreak in Nashville.  During the summer of 2016, Griffin completed an internship at WSB-TV in Atlanta under meteorologist Brad Nitz and chief meteorologist Glenn Burns.  He is currently completing his senior year of the professional meteorology program with an emphasis in broadcasting at Mississippi State and plans to become an on-air meteorologist upon graduating.  Griffin enjoys attending concerts, watching football and grilling. You can contact Griffin at gh510@msstate.edu.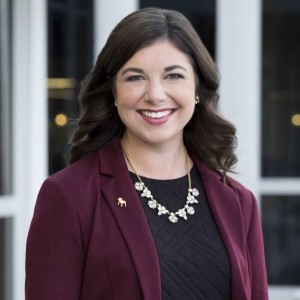 Brooke Laizer: (@brookelaizer_wx)Both born and raised in New Orleans, Louisiana, Hurricane Katrina inspired Brooke Laizer's Atmospheric Science studies at age ten! While working toward achieving her Professional Meteorology Major; Communication Minor; Broadcast Concentration,  Brooke has interned in the New Orleans, LA and Washington, DC media markets. She's studied under WVUE Fox 8's "Your Weather Authority" as well as WJLA Abc 7's 'StormWatch7.' Brooke has shadowed several national news talent, too, including ABC News' Chief Meteorologist Ginger Zee. Off campus, she took Geosciences' Great Plains Storm Chasing Course, tracking storms across several states. She also took Geosciences' San Salvador Island, Bahamas Storm Survey Course, collecting natural disaster data. On campus, Brooke's involvements include East Mississippi Chapter of National Weather Association and American Meteorological Association, Student Association Cabinet, Student Association Class Council, College of Arts and Sciences Dean's Student Advisory Council, Delta Gamma Delta Lambda Fraternity, etcetera.  You can contact Brooke at BrookeLaizerWX@gmail.com .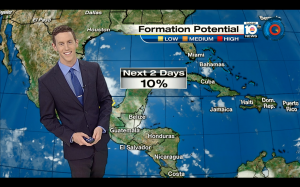 Jordan Patrick: (@jordanpatrickwx)
Jordan Patrick is a senior working on his professional broadcast meteorology degree.  Being a born and raised Miami boy, weather has always been a big part of his life, especially the tropics. The extremely active 2005 hurricane season solidified his dream to become a meteorologist. During the summer of 2016, Jordan interned at WPLG Local 10 in Miami, working side by side with Betty Davis, Julie Durda, and hurricane specialist Max Mayfield. Some of Jordan's interests include fitness training, running, playing sports, and spending time with his dogs. You can contact Jordan at JordanpatrickWX@gmail.com.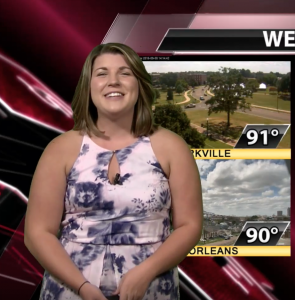 Melissa Scavelli: (@Mel_Scavelli) Melissa Scavelli is a senior Broadcast Meteorology major from Bristow, VA. Being from the suburbs of Washington D.C. Melissa has experienced all types of weather from major snow storms to hurricanes, and even a few tornadoes. Her interest for meteorology was sparked in 2011 during hurricane Irene. She was in the Bahamas when the category 3 storm hit Paradise Island and was fascinated with the storm and the different ways people reacted to the progression of the storm. From there Melissa knew she wanted to be able to predict and inform people when and where large weather outbreaks would be. She would love to have an impact on the safety of people's lives. During college Melissa has interned twice for WJLA-TV in Washington D.C. under Chief Meteorologist Doug Hill and Executive Weather Producer Alex Liggitt. She is also an active member of the Zeta Tau Alpha Sorority, recruitment assistant for the past 3 years.  You can contact Melissa at melscavelliwx@gmail.com.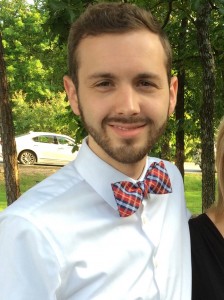 Daniel Tripp: (@ddeantripp)  Daniel Tripp is a senior majoring in Geosciences concentrated in Professional Broadcast Meteorology. Back in 2009 there was an ice storm that impacted his hometown of Paragould, AR. After going without electricity for 14 days and cleaning up storm damage, this experience was the springboard for Daniel's interest in meteorology. During the summer of 2016, Daniel was able to intern at KAIT 8 in Jonesboro, AR under Ryan Vaughan and has learned a lot about weather from the internship and MSU. Some of the things he enjoys are hiking, white water rafting, and spending time at the lake with family. You can contact Daniel at dt739@msstate.edu .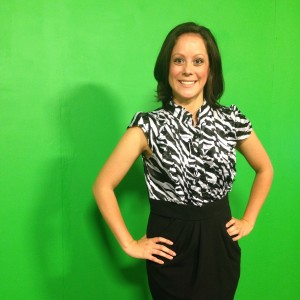 Rebeca Velazquez: (@beckystormwx) Rebeca was born and raised in Vicksburg, MS, but her heart and family are in Puerto Rico.  Her first memorable experience with weather was when Hurricane Katrina hit the MS Coast and the storm surge extended all the way to central MS.  Rebeca came to MSU in 2012 originally pursuing a degree in Civil Engineering, but fell in love with the environment and everyday weather.  In 2014, she made the switch to Broadcast Meteorology and added Spanish as a second major.  This past summer, Rebeca interned at WCBI in Columbus, MS. During her time at MSU, she has been an active member of Sigma Phi Lambda Sorority, Campus Student Ministry at St. Joseph's Catholic Church, and the East Mississippi Chapter of NWA/AMS.  She loves tracking tornados, watching the Food Network, and dog sitting for her friends.   You can contact Rebeca at rav43@msstate.edu .
All photos, names, and Twitter handles are hyper-linked for your convenience
For more information or inquiries, please contact:
Lindsey (Morschauser) Poe at lcm193@msstate.edu