Check weekly for the latest forecast from the broadcast meteorology practicum students!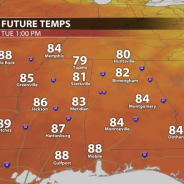 Our weather is on cruise control this week! A quiet weather pattern will take over, leaving us high and dry with consecutive sunny days. MONDAY NIGHT: Cool temperatures and calm winds. Patchy fog is possible before sunrise. Temperatures will dip into the mid-50s, so you might want to grab a hoodie or light jacket before leaving for those 8 a.m. classes. TUESDAY: It'll feel cool and crisp outside again on Tuesday morning with temperatures in the mid and upper 50s! Patchy fog is possible, so keep that in mind on your commute to class. Once the fog lifts, it's another beautiful day! Warm in the sun, but still comfortable. Temperatures will climb into the mid-80s on Tuesday afternoon. TUESDAY NIGHT: Another cool night! A few passing clouds overhead with lows in the upper 50s. REST OF THE WEEK: Beautiful! A little bit warmer on Wednesday, but upper 80s are the warmest we'll get this week. Humidity will increase a little bit by mid-week as winds shift out of the south and east, but it won't be a drastic change. You may not even feel a difference since moisture will still be limited. This will also keep rain chances out of the picture. We aren't expecting any fronts or systems to impact our weather over the next six or seven days, so things look quiet for the rest of the week. Our next chance for rain won't come until Sunday or early next week. We're ok right now, but drought conditions could become an issue in the future, depending on how long this dry spell lasts. We'll keep you posted! TROPICAL UPDATE: Hurricane Nigel is strengthening in the central Atlantic Ocean and could become a major hurricane by Tuesday. This storm is no threat to land and will curve out to sea later this week. The National Hurricane Center is monitoring two other disturbances in the Atlantic that could become tropical systems sometime over the next week, but neither of them are a threat to the Gulf Coast at this time. Have a great week, and Hail State! Dylan Hudler Student Meteorologist...
read more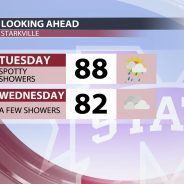 We started the week off on a warm note with highs in the low-90s on Monday. We have one more warm day on Tuesday before a taste of fall arrives mid-week and lasts through the weekend. TUESDAY: A cold front will approach from the northwest and will bring the chance for a few showers throughout the day. Because of the rain, high temperatures will be slightly cooler than Monday, topping out in the upper-80s.  TUESDAY NIGHT: A couple of showers are possible after sunset. Otherwise, it'll be cloudy and comfortable with a low in the mid-60s. WEDNESDAY: Mostly cloudy skies with a few lingering showers behind the cold front. High temperatures will back off into the low-80s.  THURSDAY: The humidity relief behind the cold front will be noticeable on Thursday. Combined with highs in the low-80s, it will feel great outside! After a couple days with rain chances, we will stay dry with partly cloudy skies. FRIDAY – SUNDAY: Highs will remain in the low-80s allowing our stretch of comfortable weather to continue through the weekend. There is a chance for scattered showers or storms on Saturday. Heads up if you have plans to tailgate or go to the Mississippi State football game. Stay tuned to our social media for updates on the forecast!  Owen Basselman Student Meteorologist...
read more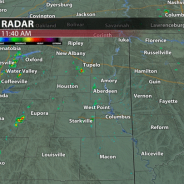 Here is the forecast for...
read more